What's the obesity breakdown this week? Fighting obesity is a daily challenge. In this breakdown, let's talk about income and how it affects obesity!
So from 2005-2008, the CDC conducted a national surgery to see if your chances of becoming obese is affected by how much money you make. The findings were pretty interesting and showed trends that you may not really expect. If you want to read more or the full study click here to learn more!
So the CDC surveyed a bunch of people and found that among men, obesity prevalence is generally similar at all income levels. But they did find that black men and Mexican-American men with higher income levels are more likely to become obese.
Now, when it came to women, those with higher income were less likely to become obese. They also found that there wasn't a significant trend between obesity and education among men.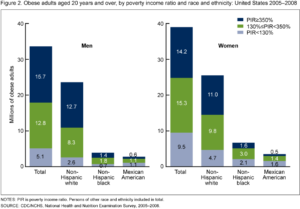 It's important to be aware of trends like this so you can better determine workout and eating routines! Remember to consult your physician to see how you can manage your weight and how COVID-19 may impact you.
This was the obesity break this week!