This week we're talking about Bali, how great it is, and why you should NOT move there. So recently a women went viral on Twitter for sharing her experience moving to Bali and advocated for others to do the same thing.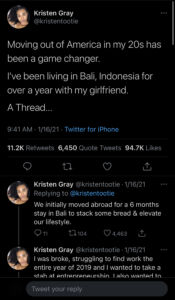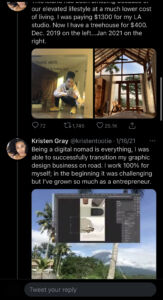 Click here to read the full thread!
In short, she was able to leave her $1,300/m apartment in L.A. for her $400/m luxurious tree house in Bali. After sharing her experience she went on to share how cheap some luxuriesare and how others can experience the same.
In recent years Bali has been showed off and seen as a luxurious vacation spot. If more people were to take advantage and exploit its island it could destroy the locals economy and their livelihood.
Shortly after her tweets went viral, she was arrested on the island and deported back to America. Many people criticized her for exploiting Bali and she has since tried to learn from her mistakes and why this could be disastrous for the locals in Bali.
Thanks for catching up on what's poppin' this week and stay tuned for more! Stay tuned by joining our Newsletter.