Hopefully everyone is having a great Monday! The news hasn't been as anxiety filled lately so this week we're talking about Super Bowl 2021 and the viral debate that it sparked: Who's the best athlete in the world?
It feels like every-time an athlete passes our expectations, we have to address this conversation… but let's do it again!
With the Bucs winning 31-9 last Sunday, Tom Brady took home another ring making it his 7th Super Bowl title! This was a huge accomplishment for the 43 year old athlete. Now here's the post that went viral: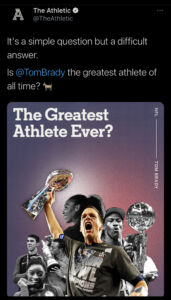 Just by looking at the picture you can already see the athletes that he's being compared to….
Serena Williams, Michael Jordan, Simone Biles, Tiger Woods, etc.
Now if you don't remember, Serena did win a grand slam… while pregnant. She's also won 23 Women's Tennis Grand Slams. So those who worship these athletes definitely showed up!
Comparing the top athletes in the world is not easy… there's almost no way to accurately do it.
They all play different sports, which all require very different skillsets and approaches. Women and men also have very different genetic make-ups that clearly affect your ability to perform. With different accomplishments at different ages… comparing top athletes is almost impossible.
Fans know this! In all honestly, there may not be 1 top athlete in the world or we may never truly know who they are…but it's always fun to ride for your favs!
Thanks for checking out What's Poppin' this week and don't forget to join our Newsletter!